March 25, 2011
by dana
2 comments

Watch our journey to remodel Ned and Hillary's kitchen. This video is part one. It's the people and the craftsmanship behind the scenes. Come see the final reveal at the Junior League of St. Louis's First Annual Kitchen Tour — A Gathering Place — on April 2. For more information about the tour click here.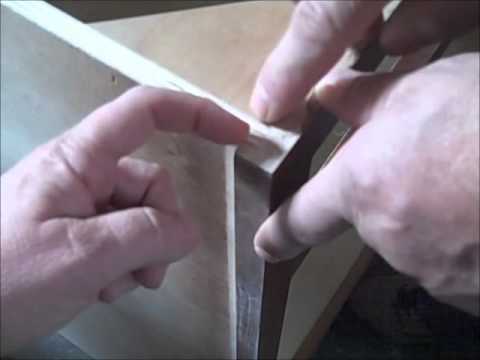 Here is a teaser for the big reveal:
Ned and Hillary's kitchen bridges the periods since the home was built in 1905. And for that reason I  call it eclectic vintage. Inspiration for our design came not only from the home's character, but also from Hillary's antique food tins she has collected for years. Here was the starting point from which it unfolded.
Art deco lighting, yet to be revealed, draws you in and sets the stage for the vintage charmer. John at "A Light Above" salvaged antique shades in three different shapes, for pendants over the peninsula. He strung them on cloth cord for a contemporary feel.
The decorations and the lights remind you of a time before. Yet a more permanent and original feature uncovered a poignant story — a story that, if walls could talk, would have so much to say.
It started with a shallow bump-out that perplexed us. We wondered what to do with it. Work around it, with it? What the heck is it?
Hillary stared at it during dinner one night and wondered if it was an old brick chimney that we could perhaps expose. We chipped at the old plaster and, sure enough, there was brick and a hole where the old stovepipe once was.
Coincidently, here was where we planned to put our new modern stove top. Joe, of Joe Bennett Construction, cleaned the bricks and then vented the new hood out of the same hole.
The once mysterious bump-out is now revealed to not only create a stunning focal point to the room, but also provides a striking historical contrast. In my mind I travel back in time to observe a woman in a long dress cooking before a wood-burning stovepipe stove. Then flash forward to Hillary who gathers her family while she cooks beside the modern cook top with its sleek hood.
Many things have changed over the years, but one thing remains the same: the human need to gather one's family around the hearth.
And so I believe the Junior League kitchen tour is aptly named: A Gathering Place.
Kitchens speak to the core of why I do what I do. Its not about me or my design. Rather, it's about family. And if I can help make a difference to a family, then that's the spice in my cake, the ice in my soda and the butter on my bun!
I wish the Junior League a successful launch of the kitchen tours to celebrate hearth and home. And to Ned and Hillary, a special thank you for sharing with us. May you gather many and love much in your new kitchen!